By now, you've heard about the Nikon mirrorless cameras the Z6 and Z7,  that have been announced on the 23rd August, 2018. As is customary with any new major product release, there will follow the inevitable whining from the internet. The Age of Outrage.
Over the past 10 years, every manufacturer has done something to send the internet into a frenzy of hate.
On this occasion, it was Nikon's decision to only provide one XQD card. All of a sudden, everyone is a "professional photographer" who shoots for the Royal Family and they could never consider the Z cameras and they have to have two cards slots. Regardless of that, is there a need to have dual-slots. Only each persons workflow will determine that. I'd suggest that this may be applicable to a very small select group of users. Let's be clear though, even then it is a false sense of security in my experience, and opinion.
It is typical of Nikon to release a camera with some cut down features they could have easily have implemented. And I certainly think Nikon has lost their way, delivery some products years late, announcing and then cancelling products, and not fully taking advantage of a technology. There is one thing to consider in balance of the 1 card slot, this is a XQD card, they are not vulnerable SD cards. Sure, I guess it would have been nice to have dual cards, primarily for me as overflow, but that doesn't mean "pro's" can't use this camera. We'll get back to the "professional photographer" some other time..
Nikon's aim is not to just deliver some camera that matches what Sony has, or some features here and there from other manufacturers. The noise surrounding the card slots is over powering the entire release of these camera, so very quickly , let's take a look at the major highlight and what this system is all about, and that is image quality.
It uses the FX format sensor.
New "Z" lens mount with ultra-short 16mm flange-sensor distance
and a much larger  55mm diameter lens mount.
Why is the larger mount, shorter flange a big deal? The entire premise of having the larger mount has several advantage:.
– Apart from being able to use all current Nikon lenses with an adapter, and older Nikon lenses with limitations, it means there is the possibility to adapt almost ANY lens from any mount system ever made.
– the larger mount also allows lens designed that allow edge to edge sharpness of the image. The micro 4/3rds system demonstrates this.
– in-body image stabilization
First and foremost to the whole concept of the Z cameras is going to be image quality. The new S line lenses are going to be the real indicators here. For instance, the 50mm f1.8 lens. The S-line 50mm is not the same as your regular plastic built 50mm f1.8 that costs a couple of hundred dollars. Have a look at the specs, the build materials and quality of the lens and the MTF charts and you will see what we mean. The same could be said for the 35mm f1.8 Z too. The price of these will reflect their quality. Again, Nikon's ultimate goal is an excellent image quality system.
The Z cameras are slightly larger than the Sony A7III with a much better grip. This will be one of the most understated features of the cameras, it's kind of glossed over by many articles and reviewers. It is probably my biggest complaint about mirrorless was the loss of ergonomics, especially when shooting with larger lenses like a 70-200. I found the need to keep it small and light meant for serious all day work, the mirrorless cameras like the Sony's were out of the question. A DSLR was needed for working all day which was counter-intuitive, since they are bigger and heavier.
There are also a few features which will be extremely appealing to video makers. The cameras can output 10bit files at 4:2:2 to an external recorder. A YouTube blogger taking videos at home studio, does not need this. But film makers will love it. Since the camera uses XQD cards, it could also be possible to release a future firmware update to record those files on the camera. Panasonic for instance released a firmware upgrade for their EVA1 camera that allowed All-I frame codec recording and 5.7K RAW output.
Now, I'm not going to pin my buying decisions on my  speculative hopes about firmware upgrades, I'm just pointing out the potential these cameras have and why they are exciting. Nikon has the opportunity to leverage their know-how here and take the most interesting cameras to the next level.
At this stage, we don't make any money but we've provided some links where you can pre-order.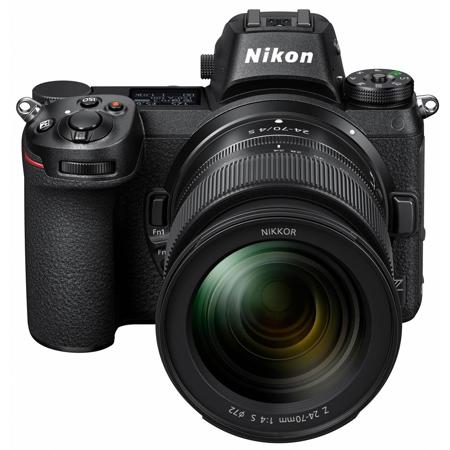 Z7 FX-Format Mirrorless Camera with NIKKOR Z 24-70mm f/4 S Lens$3996.95BUY NOW